Are you looking for a new direction or need some help to embrace new challenges or address change?
A period of change or transition can be exciting, frightening or complicated. Life coaching is a process that gives you the tools and techniques to help you to clarify personal goals, unravel issues and to create new ways of thinking.   Using the GROW model and powerful questions, life coaching highlights a better understanding of your thoughts and feelings and gives you options that you may not have realised you have.
It will help you to make positive changes, where you are confident, optimistic and excited about what is ahead!
Some goals might be to:
✔gain confidence in certain situations
✔get a better sense of direction
✔be more effective at work
✔relate to other people more effectively
Whatever the ambitions are, coaching helps people to gain achievement in the best possible way for each individual, more quickly and effectively than working on your own.
Always at the heart of the process is the principle that the answer lies within each individual  and the coach is there to help to extract it.
For further information and to get you started please see the following:
Working with Louise – what to expect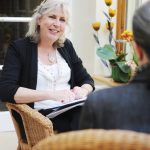 Learning about yourself, discovering your strengths and areas for improvement, having an open mind and being open to accept change, are all part of the great journey you will undertake.
I use many different tools and exercises to assist the process.  However, there is never a one size fits all – and any exercise used is of course with your agreement.   I work within the Coaching Academy Code of Ethics.
Part of your coaching programme will include a personality analysis, using DISC.  This is a method I use to help to understand different behaviours based on our personality traits.  This is very helpful in understanding ourselves and helping us to communicate effectively with others.  It is thought provoking to do, but there are no right or wrong answers or good or bad personality traits.
Attending a session
Each session is 90 minutes – you will have a pre session preparation form, which will help you to be ready for what you want out of the session in advance.
You will go away with actions that you will be committed to.  You can make notes or record these actions; whichever way is easiest for you.
It is an enlightening experience, can cause some deep thinking, but you are in a safe and relaxed environment; no judgments are made; confidentiality is maintained at all times and generally you can have fun!
These sessions are conducted in a place to suit you – either face to face or via Skype or another option ….
Do you fancy a 'Walk and Talk' session?  In this beautiful Surrey countryside, it can be beneficial to get out and experience those cobwebs being blown away!
Over all, however you choose to work at your ambitions, it is a process that helps you to achieve your goals far more quickly than struggling on your own.
Book your free 30 minute Skype consultation  to: un-muddle it all and get you back on track
I went into the coaching needing guidance and help and have achieved both those objectives.  I have learnt how to compartmentalise a bit more which was always my coping mechanisms before having children.  I am attempting to be more structured in my thinking and actions and trying to control my thought processes so they are more positive and optimistic.  All these give me a feeling of satisfaction and if I believe I'm coping, I have a far greater chance to cope!!

I found Louise was incredible at being able to interject at the right points in our conversation and was able to make me think differently about areas that I hadn't before. 

I feel more able to cope with people who I don't understand and think like, and am more aware of how other people need to communicate differently to me. The tools work in all environments!

Thank you so much

Elinor Lytton

March, 2017
When I first met with Louise I was at a crossroads.

I had been circling a return to work after almost 10 years of being at home with the kids. I had a few ideas about the direction I could go in but was unsure how it would work with my family. I wanted to make sure I was making the right choice, as I didn't want to sleep walk into an area I would regret.

Louise helped me unravel the options and alternatives. She enabled me to choose one clear path and feel confident about that choice, by exploring all the possible pro's and con's associated with it. She helped me with my time management, encouraging me to make efficiencies and to remain focused on what I was trying to achieve. After coaching with Louise I feel stronger and more determined. I feel like a cloud has been lifted and I can see clearer now, it won't always be easy but I know that I can put to rest those niggling doubts. Louise helped me regroup and take control of my future.

Thank you Louise!

Nicola Tierney,   Architect

November 2013
Working with Louise was a very worthwhile exercise – I found things out about myself that helped me better understand my attitude to work, in particular.   Louise always asked the right questions to get me to the point of understanding.   As a result I was able to re-think my attitude and bring a healthier approach to a new job, which is working out well.  It was occasionally emotional but I always felt I was in good, professional hands and I wouldn't hesitate to recommend her coaching skills to anyone needing support."

Joanna Suart , Vet Practitioner

April 2015
______________________________________________________________
 Impact of Coaching from previous clients:
The coaching sessions with Louise have enabled me to approach issues in a far more methodical way – giving my thought process structure by looking at goals in both the long term and short term and then working through the way to achieve those goals.  It means now that I can articulate both the "what" and the "how".  In addition, Louise's coaching has taught me to recognise that I cannot control everything, so I should not try!

Louise is great at listening and then teasing out the real issue by asking open questions and giving me time to think about the response.  Louise also kept me on track when I lost focus to ensure that we agreed on the goal for each session and the summarising at the end of the sessions that we had agreed an action plan to reach my goal in realistic time frames.  Coaching has opened my eyes to the importance of giving myself time to think about goals, values, strengths and development areas.  It has been a great opportunity work through what I really want and how I am going to get there  – with Louise's guidance and expertise in exploring what the real underlying issue or belief is. Louise has helped me to learn about myself and recognise how much I can do and have done already which has also improved my confidence and means that I now have the tools and ideas to continue to work on my confidence.

Overall working with Louise has been a fantastic opportunity to develop my sense of self and get to know what and who I really am; to articulate what I really believe in and to commit to myself that I will have the courage of my convictions in all I do.  I shall miss my sessions with Louise Turner and will strongly recommend her coaching to my friends and colleagues.

C.M
I have never received coaching so this was a helpful and revealing process.  My confidence was on a low ebb and the coaching overall really helped me to re-discover and refocus my skills

I discovered I posses more capability than I thought I had; (nothing sits outside of my comfort or stretched zone) – this was a revelation as I had previously considered myself more vulnerable.  This provided a huge boost week 1.

I discussed some difficult man-management challenges and, with good targeted questions from Louise, I worked through strategies to cope with these.

Overall, I have benefited hugely from the sessions with Louise, and I am impressed with her patience, her active listening and her understanding of the subject matter.

T.D
I found my coaching sessions with Louise Turner extremely enlightening and I now have a clear view of what I want to do with my life presently.

I have a clearer picture of who/where  I want to be and I am certain that I would be feeling rather 'lost' had I not have completed the coaching sessions with Louise.

I have had a break in my career and had been uncertain about what to do now that my children are becoming less dependent on me.  Thanks to Louise and the coaching sessions I feel confident to move forward to achieve my goals which I have now set quite clearly.  Louise set me some very interesting task which enabled me to work out what I want to do (Matrix, wheel of Life etc) and I found these very helpful.

Louise seemed to know exactly what questions to ask me to ask myself and this coupled with the trust that I have in her helped me to find the clarity and confidence that I was seeking.

Thank you so much Louise, I would not hesitate to recommend you or to use you again in the future should I feel the need.

H.W
Louise was extremely friendly, she exhibited a calm, relaxed and patience that reflected upon me, as I was at first a little unsure what I was to gain from the sessions.

Louise gave me time to speak, and helped me identify what it was I wanted, and emphasised this point, it was about me, and ensured I understood that what I wanted was not necessarily what everyone also expected of me, nor what I expected of myself in comparison to my peers.  This aspect helped me enormously.

Louise effectively managed to help me answer my own questions with her questioning, here I often laughed at myself, seeing the obvious right in front of me!

Louise made me think about me, that I was important, that I had a choice to make my working life better, but more poignantly that I had to do what was best for myself.

The sessions helped me to clarify, consolidate and confirm my initial thoughts and apprehensions about my professional career, giving me the confidence to go ahead and make a decision.

I thoroughly enjoyed the sessions, they roused many emotions and feelings about my own personal life and work life.  It put priorities in order and made me think about what is important.

Thank you Louise, you are someone that naturally puts people in a position to answer very hard questions about themselves, helping identify who they are.

N.C
Working with Louise has been an illuminating experience.  Over the course of the sessions, fact to face and telephone conversations, Louise has given me the strength and courage to set goals and targets that once achieved have the potential to impact on my life considerably. Louise encouraged me throughout to think about and break down my goals into achievable targets and to record the outcome each step of the way.

The impact has been quite considerable in that the achievement of set goals/targets has brought about order in my life and increased my confidence both in personal and work capacity.  Coaching has encouraged me to break down problems, issues and even aspirations into segments, to set small yet achievable goals and to celebrate success be it on a small or large scale.

Thank you Louise!!

S.F
Coaching has enabled me to achieve goals that I did not imagine to be possible.  Louise enabled me to shift my thinking and change my behaviour and in doing so feel more positive and confident about myself as an authentic leader.

I had struggled to bridge the gap between my personal and professional life and felt that my 'self' was of no consequence or importance to me or my colleagues the work place.  I am a workaholic and thought I was happy, satisfied and effective in that role.  I felt myself become defensive if colleagues asked me about me, my family and life beyond work and gradually realised that colleagues need to see who I am, not just who I am acting as in order to gain a greater understanding of my mission and priorities,  Also, I wanted to be able to just talk and be accepted as another person at work.

Louise took me from my initial goal of wanting to shift my thinking and myself to where I could feel comfortable and work towards enabling staff to identify with me as a reasonable and approachable human being, through enabling me to set smaller goals that would move me towards the main goal.  I was challenged by the questions Louise posed, but she skilfully and sensitively guided me through the mire and beyond to a more challenging goal.  At the end of 6 sessions, I saw myself as an authentic leader who is comfortable as themselves in a role at work, but who can be seen and understood as a person who has the same struggles, issues and motives as others.

J.D
The coaching experience has allowed me to explore my thinking around different ideas, experiences and feelings.  Louise has allowed me time to reflect both in our sessions which has enabled me to understand my motivations more fully, as well as leaving me with tasks to promote more evaluation in between our sessions.  Though my initial goal was met quite early on,  the coaching sessions have allowed me to see the interconnectedness of all the different parts of my life at the current time.  There is no doubt that the coaching sessions have made me a stronger person emotionally and have allowed me to accept changes that have occurred over the last 5 months.

N.B